What should girls wear to university graduation?
University Graduation Day Outfit Guide
Your university graduation ceremony is a significant milestone in your life, and it's important to dress the part. By understanding the dress code and choosing a classic or trendy outfit that complements your personal style, you can create lasting memories of this special day.
Dress Code
When it comes to choosing a graduation dress, there are a few factors to consider. Firstly, it's important to check if your university has any specific guidelines or requirements regarding attire. The dress code for a college graduation ceremony is typically formal. For men, this means wearing a suit or dress pants with a button-down shirt and a tie. For women, a dress or a skirt and blouse combination are both acceptable choices.
Some institutions may have rules about dress length or colour restrictions. Once you have familiarised yourself with any regulations in place for the big day, you can start exploring different styles and options.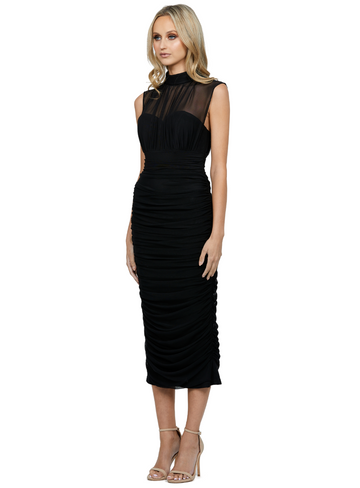 Classic and Sophisticated Outfits
For women, a chic dress or a skirt and blouse combination in a flattering silhouette is a timeless choice. Opt for classic colors like black, navy, or soft pastels.
Choose a dress style that flatters your body shape and makes you feel confident. Opt for a knee-length or midi dress that is appropriate for the occasion. Avoid anything too revealing or too casual. Stick to solid colors or subtle prints for a timeless look.
If you prefer a more tailored and sophisticated look, consider wearing a suit or a blazer with pants or a skirt. This is a great option for girls who want to showcase their professionalism and add a touch of power to their outfit. Choose a well-fitted suit in a neutral colour like black, navy, or gray. Pair it with a crisp blouse or a stylish top to complete the ensemble.
Comfort should also be taken into account when selecting your graduation dress. Remember that you'll likely be wearing it throughout the ceremony and possibly during post-graduation celebrations as well. Choose fabrics that are breathable and lightweight, allowing you to move with ease and enjoy the day without feeling restricted.
Trendy and Modern Outfits
If you want to add a trendy touch to your graduation outfit, there are a few options to consider. For women, a chic and sophisticated jumpsuit can be a classy alternative to the traditional dress. Choose a jumpsuit in a flattering silhouette and a trendy color like pastel or floral prints. Pair it with statement heels and accessorise with delicate jewelry to complete the look. Another trendy option is a midi or maxi dress with intricate lace details or a bold geometric pattern. Opt for a dress that flatters your body shape and pair it with elegant sandals or block heels.
Shoes
Graduation ceremonies often involve a lot of walking and standing, so it's essential to choose comfortable shoes. Opt for closed-toe flats, low heels, or block heels to ensure stability and comfort throughout the day. Avoid stilettos or shoes with thin straps that may cause discomfort or difficulty in walking.
Hair and Makeup
Keep your hair and makeup natural and polished. Opt for a hairstyle that will stay in place throughout the ceremony and won't distract you or others. Consider a neat updo, a sleek blowout, or loose curls. For makeup, go for a fresh and glowing look with neutral tones. Avoid heavy or dramatic makeup that may appear too overpowering in photographs.
Graduation Gown
Remember that your graduation cap and gown will be worn over your outfit, so choose a dress or suit that complements the color and style of the gown. Most graduation gowns are black, so keep that in mind when selecting your outfit. Ensure that your outfit is not too bulky or restrictive, as you will need to move freely during the ceremony.
Tips for Accessorising
A graduation is a formal event, so keep your accessories minimal and elegant. A delicate necklace, stud earrings, or a simple bracelet can add a touch of sophistication to your outfit.  Avoid bulky or distracting accessories that may take away from your overall look.
Confidence
The most important thing to wear on your graduation day is confidence. Choose an outfit that makes you feel comfortable, stylish, and reflects your personality. When you feel confident, it will shine through and make your graduation even more memorable.
No matter what your personal style is, there are many ways to create a memorable and elegant graduation outfit. By understanding the dress code, choosing a flattering outfit to wear to your graduation, and accessorising thoughtfully, you can feel and look your best on this special day.
In the end, the choice of what to wear to a graduation is entirely up to you. Enjoy this special day, celebrate your achievements, and embrace your future with style and confidence. Congratulations, graduate!
---